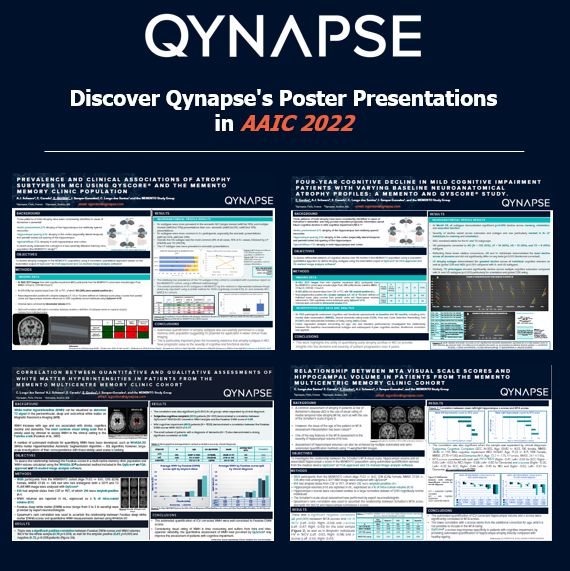 We are excited to announce that 4 posters demonstrating the value and utility of automated neuroimaging quantification tool QyScore® are being presented by our Scientific Director Elizabeth Gordon at Alzheimer's Association International Conference (AAIC) 2022 online! 
The first study (Poster #67772) successfully quantified and classified key neuroanatomical profiles known to affect clinical manifestation in a large memory clinic cohort of over 1600 individuals, demonstrating QyScore®'s utility to be deployed widely in the clinic to support more informed early clinical assessment. Watch the presentation through the link https://epostersonline.com/aaic2022/poster/67772. 
This work was further extended by the second study (Poster #67102) to demonstrate that different patterns of cognitive and functional decline over 4 years occurred depending on these different initial neuroanatomical profiles. Therefore, by applying QyScore® to automatically provide this valuable neuroanatomical classification in early mild cognitive impairment (#MCI), key insights into likely progression for patients can be advanced. Learn more about this presentation via https://epostersonline.com/aaic2022/poster/67102.
Our scientific team also extensively investigated the relationship between QyScore®'s quantitative structural assessment and widely-used qualitative visual assessment of White Matter Hyperintensities (Fazekas scale) and medial temporal lobe atrophy (Schelten's scale). Correlating well with these core visual scales and providing additional corrections for normal aging, QyScore® demonstrates promises in providing valuable support to these time-consuming and operator dependent assessments in the clinic. Find out more about this topic through our Poster #67534 via the link https://epostersonline.com/aaic2022/poster/67534 and Poster #67680 via the link https://epostersonline.com/aaic2022/poster/67680.
If you have any questions about our scientific presentations at AAIC 2022 or wish to know more about our solutions, please feel free to contact us at https://qynapse.com/contact/.
About Qynapse
Qynapse Inc. is a medical technology company offeringan AI-powered and proprietary neuroimaging software platform, creating the potential for earlier clinical precision on the frontlines of CNS disease.
Qynapse's flagship solution, QyScore®, FDA-Cleared, adds the potential for more precise and objective brain scan analysis. Qynapse's predictive AI technology, QyPredict®, available for research-use-only, has the potential to predict disease trajectory and improve targeted patient selection in clinical trials.
Qynapse is headquartered in France with offices in the US Canada.