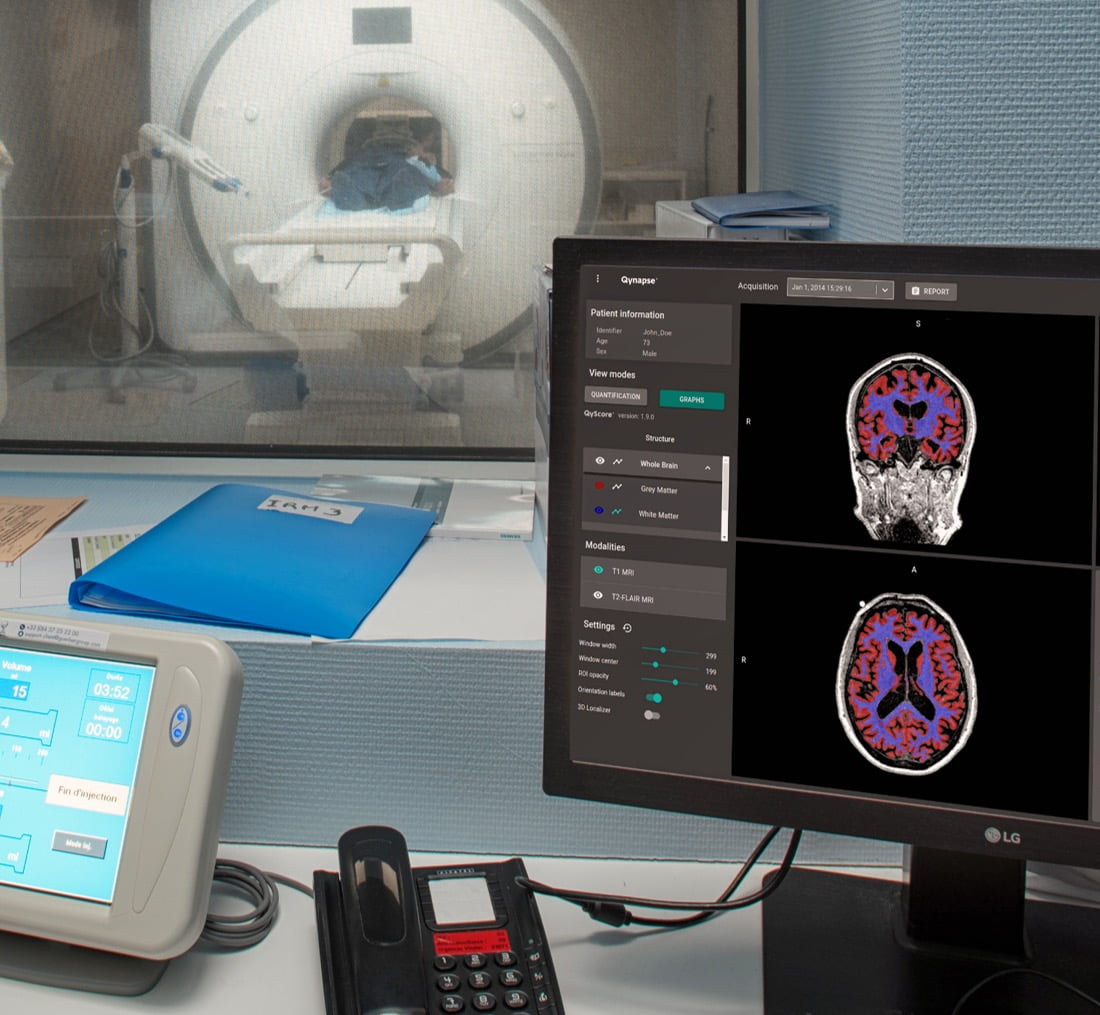 QyScore®, the FDA-cleared and CE-marked software commercialized by Qynapse, confirms its value for the rapid measurement of brain atrophy and white matter hyperintensity in a clinical routine setting.
The validation study compared the performance of QyScore® with those obtained from gold standard methods − manual segmentation from neuroradiologists. Study methodology:
The methodological validation of QyScore® was performed on a sample of 210 individuals, including healthy controls and patients coming from several clinical cohorts.

The manual segmentations were performed by three expert neuroradiologists for which a consensus was obtained.

Performances between QyScore® and gold standard segmentations were compared for various MRI markers: grey and white matter, hippocampus, amygdala and white matter hyperintensity volumes.
Results showed that, compared with the gold standard methods, QyScore® provides reliable automatic segmentation of the imaging markers of neurological diseases, including Alzheimer's Disease. These results can be illustrated by a Dice similarity coefficient (DSC) of 0.81 obtained for the hippocampus volume, a key region of interest in Alzheimer's disease.*
According to Enrica Cavedo, Scientific Director at Qynapse, "These results emphasize the fact that reliable measures of MRI markers will help move toward more personalized and evidence-based medicine for neurological diseases and reduce the societal burden of brain disorders". Qynapse has recently presented the validation results of QyScore® at the Alzheimer's Association International Conference (AAIC) virtual event in July 2020.
About QyScore® : QyScore® allows automated quantification of a broad portfolio of imaging markers crucial for the early diagnosis and clinical monitoring of brain disorders, in the context of clinical trials or clinical routine. The software supports clinicians by providing highly reproducible results to eliminate the intra/inter-rater variability in image reading and reduce the time and costs associated. QyScore® is an FDA-cleared (Class II) and CE-marked (Class IIa) medical device software.
.*Contact us at contact@qynapse.com if you would like a copy of the AAIC poster presentation.