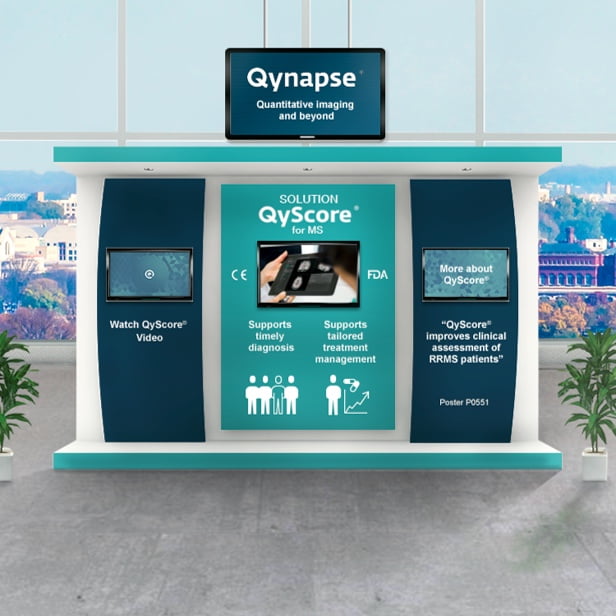 Qynapse is excited to participate in MSVirtual2020 to share and discuss innovative and cutting-edge research in the field of Multiple Sclerosis (MS).
With more than 2 million people affected worldwide; MS is the leading cause of non-traumatic disability in young adults (1). Yet MS is a heterogeneous, multifactorial and complex disease with high rate of misdiagnosis (about 20%) (2,3). Even if treatments for MS exist, the symptoms and the response to treatment vary greatly from one individual to another, requiring a tailored strategy for each patient (4).
Qynapse develops neuroimaging & AI solutions in support of MS clinical management as well as treatment development for MS. QyScore®, Qynapse's first software approved in both Europe and in the U.S., allows a more timely diagnosis of MS, as well as a close monitoring of the disease progression and the treatment efficacy and safety – for a more personalized care approach.
The latest QyScore® validation and performance advances will be presented during the ACTRIMS-ECTRIMS 2020 joint meeting (P0551 by Tran P. and colleagues). The virtual format of this year's event offers a great opportunity to engage with researchers and healthcare professionals around the world through this brand-new digital experience. Qynapse's scientific team is delighted to discuss with experts through the Live Exhibit Chat of their virtual booth.

Poster Presentation P0551 (Tran P.): Brain volumes alterations in relapsing remitting multiple sclerosis patients versus healthy controls in comparison to QyScore® normative database. (Topic Imaging) Contact us (contact@qynapse.com) if you would like a PDF copy of a poster sent to you after the event.

References: 1. Ebers GC. Lancet Neurol. 7(3):268-277 (2008) 2. Filippi M. et al., Nature Reviews Disease Primers, 4, 1 (2018) 3. Kaisey M. et al., Mult Scler Relat Disord. 30, 51–56 (2019) 4. Gajofatto A. et al., World Journal of Clinical Cases, 3(7), 545–555 (2015)